S.C. family hangs 75 handprints on Christmas tree for all those they fostered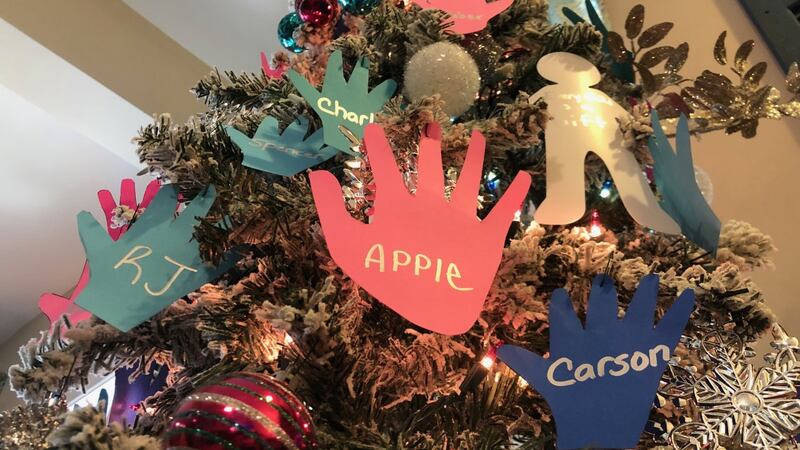 Updated: Dec. 20, 2019 at 6:35 PM EST
SUMMERVILLE, S.C. (WCSC) - The Green family has fostered more than 75 children this year and at any given point could have between one and 20 kids living in their home.
"Once we got involved, we realized there were 483 children in foster care in the surrounding tri-county: Charleston, Berkeley, and Dorchester. And within a month, we had eight of them," Timothy Green said.
Before they knew it, that number jumped from eight to 75. All of their names now find a place on the family Christmas tree. Each name is written on a handprint ornament.
"Instantly when I saw the name on the hands when she put them up there, I had that recollection, even if it was just for a night or two that we had them or if it was six months that we had them," Green said. "I instantly had memories pop up, like 'Oh yeah,' that was the kid that came and he only had a backpack, and when he left we were able to send him back with a bicycle and clothes."
Their giving comes as a foster parent shortage continues in South Carolina, according to the state's Department of Social Services.
In Charleston County, more than 200 children need foster care while there's only 74 homes for them to go to. In Berkeley County, it's not very different. About 140 kids there need a home while only 72 are available. And in Dorchester County, there are 58 foster kids but only 36 homes.
"It's like a daily silent reward you get inside yourself just knowing that you were able to help kids that couldn't help themselves, and you've done something to hopefully positively affect a change in the world and a change in the culture to help these kids grow up and remember that there's always hope even in your darkest times," Green said.
For more information on fostering a child, call HeartFelt Calling at 888-828-3555 or visit heartfeltcalling.org.
Copyright 2019 WCSC. All rights reserved.