Former 5th Circuit Solicitor awaits sentencing after pleading guilty to wire fraud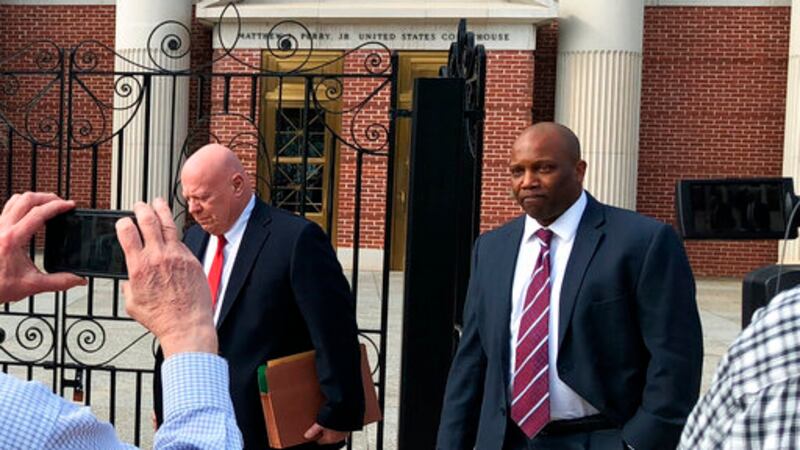 Published: Feb. 27, 2019 at 11:30 AM EST
COLUMBIA, SC (WIS) - Embattled Fifth Circuit Solicitor Dan Johnson pleaded guilty to a federal charge of wire fraud on Tuesday, a charge that carries a maximum of 20 years in prison and a $250,000 fine.
However, prosecutors with the U.S. Attorney's Office anticipate Johnson will spend anywhere from 12 to 18 months incarcerated as a result of the guilty plea.
Prosecutors alleged Johnson spent more than $44,000 of taxpayer dollars on personal expenses between 2016 and 2018. An audit released in August of last year alleges Johnson and his former top-aid Nicole Johnson were both issued office credit cards and made inappropriate purchases with taxpayer money.
The audit accuses Johnson of spending taxpayer dollars on exotic trips, hotel rooms around the world and expenses related to the military. Johnson is a Major and JAG officer in the South Carolina Air National Guard, but resigned in January.
Johnson was facing 36 charges outlined in a superseding federal indictment issued last fall. Numerous counts of mail fraud, wire fraud, theft of government funds, false statements, conversion of federal funds and obstruction were included within the indictment. The 35 remaining charges will be considered at sentencing according to the U.S. Attorney's Office.
Sentencing guidelines for wire fraud charges depend largely on a scale, in which prosecutors said the $44,000 they alleged Johnson took is on the lower end of the scale.
The count of wire fraud Johnson pleaded guilty to stems from a credit card statement of $4,713 from November of 2016. Prosecutors said some of that money was used to purchase hotel rooms in Las Vegas, Chicago, a plane ticket on a Panamanian airline and a hotel room at the Hilton Columbia Center.
Johnson and his attorney declined comment multiple times on Tuesday when asked to elaborate on the guilty plea. Last year, Johnson previously pleaded not guilty to all 36 charges against him.
"The message today is that the law comes in one size," U.S. Attorney Sherri Lydon said. "One size fits all. It fits the rich, it fits the poor, it fits the citizen and it fits the elected official. It fits the prosecuted and the prosecutor. It most definitely fits Dan Johnson."
Copyright 2019 WIS. All rights reserved.