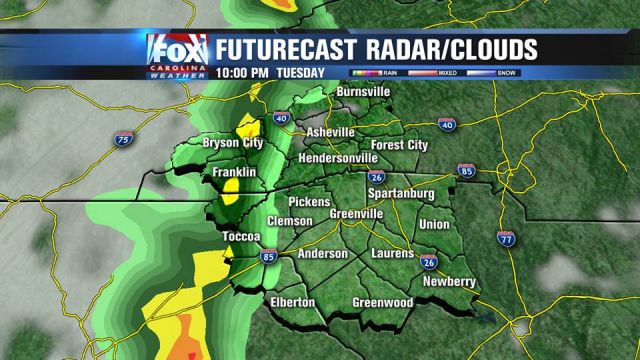 Futurecast for 10pm Tuesday
Check out the image attached to this post.... We'll see how accurate that ends up being around 10pm tonight. With all the radar trends this afternoon, I'd say Futurecast has a pretty good handle on storm timing. The good news is that the complex of storms coming at us will weaken quite a bit upon arrival in the Carolinas.
The best chance for rain and strong storms will be in western sections of our area between 8pm and midnight. Therefore, Toccoa, Royston, and Clemson will stand a better chance of storms than Spartanburg, Gaffney and Union. The line of storms will most likely fall apart as if gets deep into the Upstate. We'll be monitoring it closely though. Heavy rain and lightning will be the primary threats, but some damaging wind will be possible too.

The line of storms is from a cold front and associated upper low. It's a VERY slow moving system, but should pick up steam over the next couple of days. Tonight's line of storms will weaken as it pushes east, then another round will gear up for tomorrow. Wednesday will bring our best chance of storms all week as that low gets closer to us.
We keep storms in the forecast through the weekend, but they should become more isolated in nature by Saturday and Father's Day.