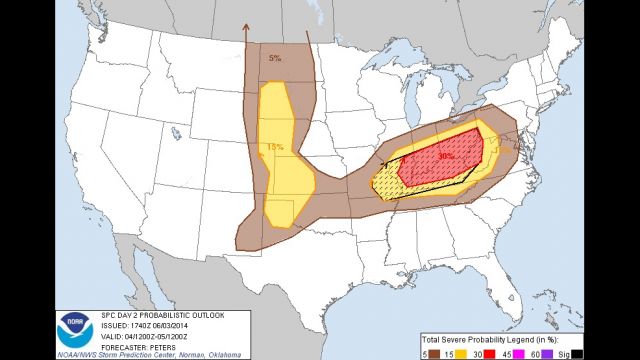 Storm threat for Wednesday into Wednesday night
We are keeping our eye on Wednesday night and Thursday for possible severe storms. Damaging winds and hail would be the primary threats, and hail could rival what we saw a couple weeks ago.
A complex of storms will be rolling through the Ohio Valley Wednesday evening, and will tap into a feed of moisture that will keep them going into the overnight. The storms could make a run at the mountains after midnight before dying out toward the early morning hours. As the storms die out, they will leave behind outflow boundaries. These are like mini-cold fronts that can act as a focus for storm regeneration Thursday afternoon. That's when we'll have a chance for a few strong storms in the Upstate.
As seen in the image attached, the greatest risk of severe storms will stay to our northwest on Wednesday and Wednesday night.
So, we'll be watching for mountain storms late Wednesday night, then a few scattered storms for the Upstate and northeast GA the following afternoon on Thursday. Friday should be drier, but a few pop-up afternoon storms will be possible Severe threat and overall rain chance should be lower on Friday.
Copyright 2014 FOX Carolina (Meredith Corporation). All rights reserved.