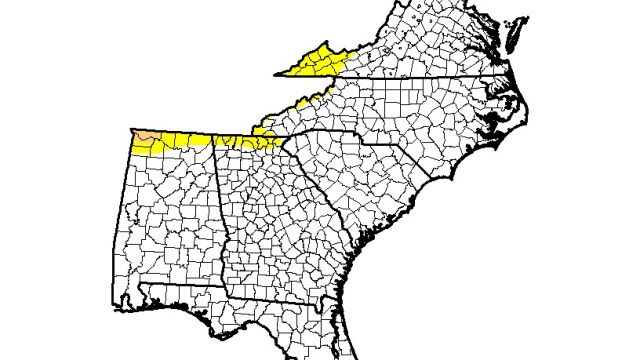 U.S. Drought Monitor (yellow is abnormally dry)
We have a dry stretch of weather coming, and we may not see any widespread rain until well after Memorial Day. With that in mind, I continue to check the U.S. Drought monitor. Luckily we have had enough rounds of rain to keep us out of drought.
The yellow spots on the picture indicate where we are abnormally dry, but it isn't considered a category of drought just yet.
As we press into the summer months, I don't expect a season quite as wet as last year. However, I don't anticipate intense drought like 2008 or anything close to it. We'll continue to monitor soil moisture, lake levels, etc, but for now things are looking good as we head into summer!
Our next chance for rain will be only in the mountains. We could see a stray shower tomorrow, then a few scattered showers by Thursday as a front moves in. It will be hit or miss, and the Upstate and Georgia will likely stay dry.