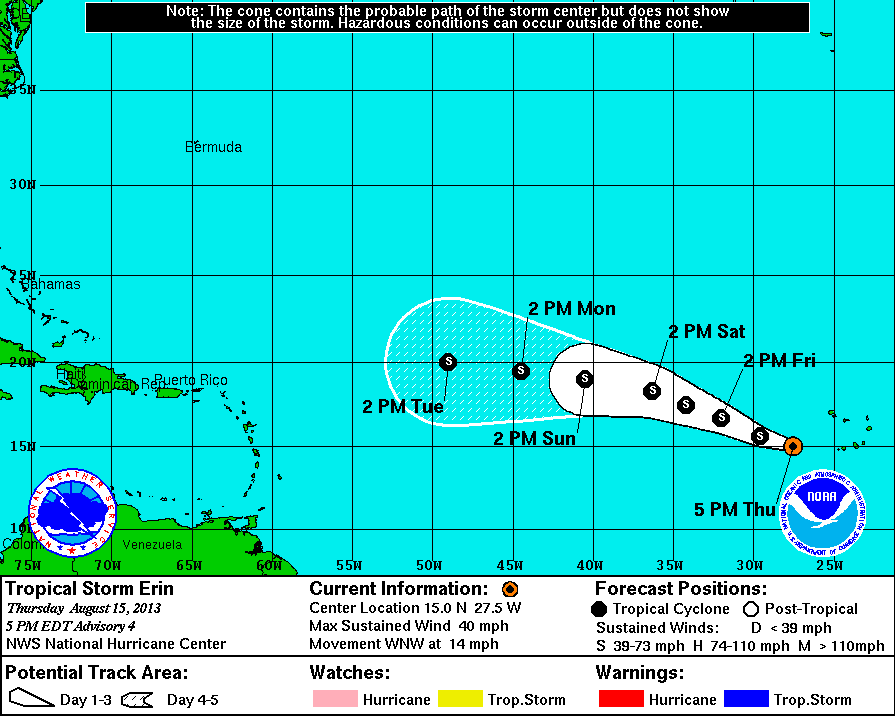 Tropical Storm Erin's path
After the new round of computer model runs, it is looking more and more like we will NOT see a huge flooding event here in the western Carolinas and northeast GA. However, rain is still in the forecast and parts of our area could still get localized flooding this weekend. First off... let's talk about the set-up:
A front is draped to our south, and that is going to help to pull in tropical moisture associated with the system near the Yucatan. The front will help to focus some of the heaviest rain south of us (at least that's what the latest models are showing), but we'll get plenty of moisture right here in our area. The tropical moisture will be in place through Sunday.
As for timing, it looks like we'll get a round of moderate to heavy rain on Friday morning, then once again Friday night and at some point on Saturday. IF current trends hold, we'll be looking at 1-2 inches of rain area-wide, with that 2 inch forecast most likely south of I85. (notice the rain totals map shows the bulls eye for heavy rain over south central GA and southern SC) Sunday will also be a wet day, with scattered showers and some heavy downpours also possible.
So, take-home message is that flooding is still possible, but it's looking less widespread and ominous as before. We could trend back to that by Friday, so you'll want to keep up with the forecast.
On a side note, Tropical Storm Erin has formed WAY out in the eastern Atlantic. It's expected to stay at TS strength for the next few days as it pressed westward. By early next week it will be near the Caribbean.