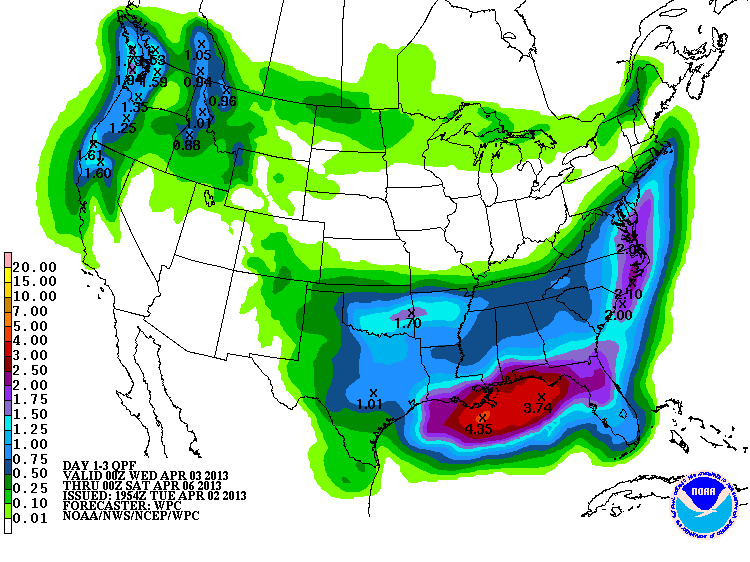 HPC Forecast rain totals for Thursday into early Friday.
A gorgeous day to be had today! Highs were a bit warmer than forecasted, which is something that didn't disappoint many today! Tomorrow we'll have more clouds, but temps should still be comfortable in the 60s. Thursday is when the rain arrives! And the cold...
High pressure to our north and a low approaching from the southwest will combine to bring us a RAW Thursday across the Carolinas and Georgia. High pressure will help to set up a cold air wedge, which will trap the chill air at the surface. The low will pull up moisture from the Gulf of Mexico, bringing torrential rain along the coast, but some light to moderate rain for us all through Thursday into early Friday. Our forecast models aren't in complete agreement about how much rain we'll see, but I think that 0.75-1 inch of rain is certainly a good bet, but we could see even more if we get some wrap around rain on Friday morning. There's a chance that heavy storms to our south could rob us of some moisture, but I still think we'd get prolonged, light rain even out of that scenario. Severe weather threat is non-existent as it looks now, with cool and stable air in place.
As for temps on Thursday, they will stay in the 40s most likely! By Friday, we'll rebound to the upper 50s once the wedge breaks and rain moves out.
We should clear out by midday-afternoon on Friday, and that will leave us with a picture perfect weekend!